State-of-the-Art Engineering Skills
Who could have realised just a few years ago how important lithium-ion battery systems would become? We, however, saw the signs of the times and developed a product, the uniqueness of which means it is suitable for the very latest applications. Cutting-edge technology means advancement. In order to be able to offer the highest degree of quality and efficiency both now and in the future, we are working continuously to improve our products. By keeping our fingers on the pulse and our eyes on the future, we are able to identify trends and new standards that will soon dominate our everyday lives.
Safeguard the future with COMMEO!
Lithium-ion battery technology has fundamentally changed our lives. From our smartphones and electric vehicles to large-scale storage facilities, we come into contact with lithium-ion battery technology in many different ways. However, one lithium-ion battery is not necessarily the same as another. The chemical composition of the cells may differ, as several different types of chemical composition are available (such as iron phosphate, titanate or NMC) that make use of the same technology, but provide completely different benefits. Commeo has set itself the task of assessing your requirements and selecting the chemical composition best suited to your needs.
A lithium-ion cell is a real bundle of energy. If you need to call upon a very large amount of power in a short space of time, it also generates a great deal of heat. That heat must be efficiently removed, in order to ensure that the battery's performance is just as powerful as each individual cell. Thanks to an innovative, passive cooling system, Commeo has made it possible to extract very high power levels from each individual energy storage block on a continuous basis.
Battery Management System
Lithium-ion technology requires careful monitoring while in operation. With this in mind and given our aim of providing the highest quality, we therefore decided to develop our own state-of-the-art battery management system (BMS). That BMS is an integral part of each individual block that monitors all safety-relevant information with high frequency and precision.
Commeo's modular approach means that you can freely select the voltage level you need, without sacrificing energy or performance. Thanks to our innovative interconnection topology, a single energy storage rack can be used in several hundred configurations. You can also make use of our configurator to suggest a solution from Commeo that meets your own specific requirements.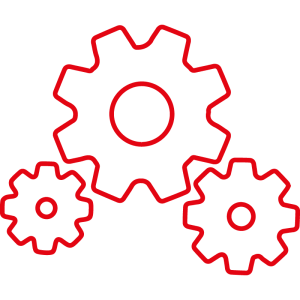 Every Commeo battery system is monitored by a control unit. The control unit collects the necessary information about the blocks and uses it to determine the system properties. The values collected and calculated are transferred to downstream control elements via defined interfaces.
We fulfil our aim to provide a high degree of quality and product optimisation by operating our very own testing facilities for cells, batteries, power electronics and control systems. In our very own electronics testing laboratory, we test our products with the help of state-of-the-art cooling and tempering systems, so that we can provide our customers with transparent performance data. We are also able to simulate new chemical compositions of batteries and storage systems, so that any developments in cell technology can be put into practice immediately.