With the new Commeo system 'Edge UPS', Commeo is responding directly to the demand for decentralised emergency power solutions and at the same time closing another gap in the application areas of lithium-ion battery systems.
Due to the compact design of the system and the high discharge capacity of the esbC energy storage blocks used of up to 4C, you need significantly less space than systems with a comparable performance level or for comparable bridging times. Even for power-hungry machines or systems, security of energy supply can be effectively guaranteed – in an efficient, decentralised manner and close to the worker, which means the system can be set up exactly where the energy is needed thanks to its high level of intrinsic safety. Separate battery rooms, special fire protection concepts or complex connection and cable concepts are not necessary.
Furthermore, both the capacity of the power storage and the power electronics can be selected in small modular stages and adjusted if necessary.
Made in Germany: As a lithium-ion battery manufacturer in Germany, Commeo offers turnkey energy storage solutions from a single source – from the development and production of individual storage blocks to the construction of entire energy storage systems. Feedback and requirements from our customers can thus flow directly into the design and further development of the products.
Our configurator for your very own high-efficiency energy storage solution!
Ideal applications for the Commeo 'Edge UPS'
Special machine construction
Telecommunications
Decentralised emergency power supply
Automated production lines
Fire doors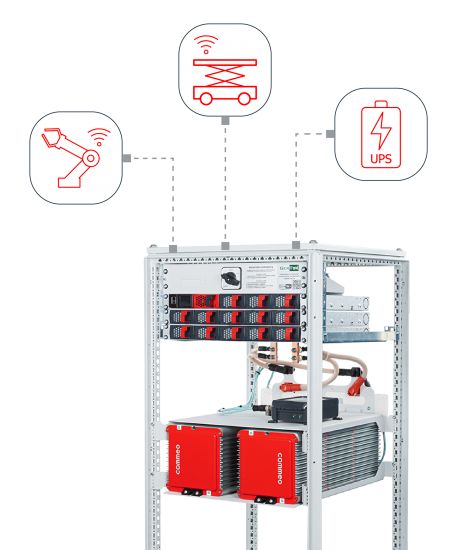 Features of the Commeo 'Edge UPS'
High level of security on site
Enables the battery system to be operated close to the worker (without a separate battery room and without long, shielded supply lines)
Compact performance
Makes a compact UPS system for decentralised emergency power supply possible
Long bridging times
Thanks to high-performance lithium-ion batteries as an energy source, 10-180 minutes per 1.2 m rack (individually expandable)
Fine level of scalability
The energy storage blocks and the power electronics allow the system to be individually adapted to your requirements
System components of the Commeo system 'Edge UPS'
Maximum flexibility and simple configuration
Inverter modules can be expanded in 1.25 kVA / 1 kW units
The battery storage can be expanded in 1.1 / 1.4 kWh increments
Easy-to-understand division into a few, combinable system components
Adding multiple systems to increase capacity possible
Simple, safe installation
Provision of 3 –12 kW power at 400 V AC output voltage
400 V AC UPS starting at a power of 3 kW
1-phase or 3-phase emergency power supply possible
Inverter modules are "hot swappable" (depending on the manufacturer)
Commeo system components & cabinet expansion levels
Central component of the Commeo Product World
Lithium-ion battery module with integrated battery management system
Types of energy storage block:
Serial block
Parallel block
End block
Models:
Monitors and configures a 48 V battery system of up to 24 energy storage blocks
Intelligence concentrated in the smallest installation space
Web-based user interface
Flexible installation
Industrial standard connection sockets
Monitors as HV battery system consisting of several energy storage blocks and serves as a battery disconnect unit
Touch-protected connection sockets in industrial
standard
Web-based user interface
Integrated High Speed 200A fuse & all-pole cut-off relay
CAN bus & Ethernet interface
24 V DC auxiliary voltage for supplying external devices
The Commeo user interface enables the system to be configured and operating data to be monitored; the user interface …
Enables the initial setup of the battery system
Allows remote monitoring or smart maintenance via laptop and mobile devices
Forms the basis for machine-to-machine communication ("M2M")
In addition, the user interface offers:
Open communication interface to external devices/peripherals
Freely configurable dashboard for monitoring the operating data (SoH, SoC, SoP, temperatures, charging/discharging currents)
Ability to export historical and current operational data of the energy storage system and individual blocks
What added value does the Commeo battery storage offer?
The added value lies in the fact that you do not need any separate battery rooms due to the high level of security and the high performance of our energy storage systems with a small space requirement; our systems can often be set up directly where their energy is needed.
In addition, our energy storage professionals offer a full service. Together with you and your customers, they have developed a complete concept for the effective, future-proof design of the energy storage system
Why are Commeo battery systems safe?
When handled correctly, Commeo battery systems are completely safe.
Commeo has implemented a multi-level, redundant security system in the energy storage blocks and systems. Due to
A robust aluminium housing
Relay
Safety fuses
An intelligent battery management system (BMS) that Commeo developed itself and which monitors temperature, voltage and other safety-relevant parameters and counteracts them if necessary
A control unit
And other safety-related properties, the Commeo products set new standards on the lithium-ion battery storage market.
What benefits can you expect from Commeo?
Development expertise
From the energy storage block to the complete energy storage system and control unit, all the components of battery storage have been developed by Commeo. The Commeo energy storage system has been specially developed in Germany in line with the highest European safety and quality standards.
Independence
Thanks to regional suppliers and complete freedom in deciding on the components used, we are fully independent of global political and economic developments.
Connectivity
We provide our partners with an innovative developer interface so that external peripherals can be connected to our battery systems. In this way, we ensure that current and future converters, chargers, controllers etc. – plus protocols of data formats – can be used with innovative energy storage solutions.