The energy storage block is the core module of all Commeo products. Our latest innovation for 2021 is the Commeo Energy/Longlife energy storage block. Our Commeo energy storage block, which is the result of our own development and design work, offers you maximum fire protection, simple installation and maintenance, maximum energy performance and a functional level of safety that is second to none.
Made in Germany: As the first battery manufacturer, we offer turnkey system solutions from a single source. From the energy storage block to the rack concept and control unit, all the components of the battery
system have been developed by Commeo. All feedbacks or requirements from our customers flow directly into the design and development of our product.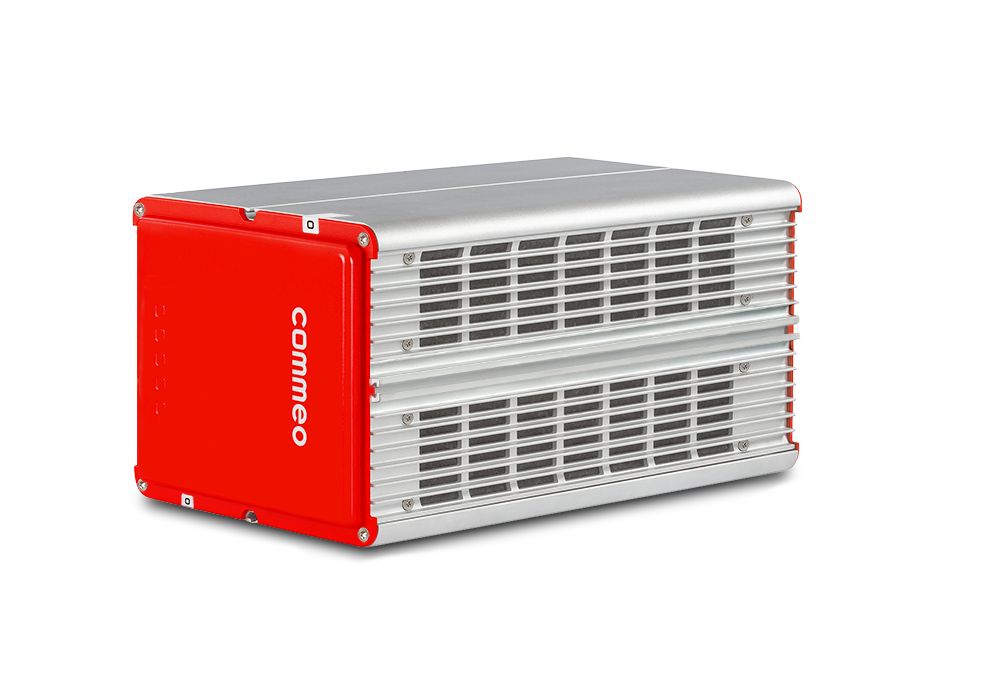 Commeo Energy Storage Block Energy/Longlife Features
innovative & efficient heat management system
energy densities of up to 160 Wh/kg or 250 Wh/l
a power density of up to 450 W/kg or 650 W/l
loop-through properties of 1000 V and 200 A
Commeo Energy Storage Block
specially developed and highly functional battery management system
unique and functional internal and external design
communications facility via CAN bus
maximum fire protection through innovative flame filter, which prevents flames from spreading and protects surrounding components
highly efficient thermal management – eliminates the need for water cooling
effective insulation design ensures surge voltage resistance of 9.6 kV at module level
Commeo Energy Storage Block monitoring function
The current system mode can be read off from the LEDs, which are positioned at the front ot the energy storage block. This makes it easy to check or example the temperature and state of charge (SoC) of a block before installation.
Which added value do the Commeo battery storage offer?
The added value is the high level of safety and the high performance of our energy storage systems. Our system needs low space requirements so that separate battery rooms is not needed. Furthermore, we offers you a Full-Service. Together with you and your customer we will create a whole concept for effective, future-proof design of the energy storage system.
Why are Commeo battery system safe?
When handled correctly, Commeo battery systems are not dangerous.
Commeo has implemented a multi-level, redundant security system in the energy storage blocks and systems. Due
to a robust aluminium housing
a relay
a safety fuse
an intelligent battery management system (BMS) that Commeo developed itself and which monitors temperature, voltage and other safety-relevant parameters and counteracts them if necessary
a control unit
and other features relevant to safety, Commeo products are state-of-the-art.
Which benefits can be expected from Commeo?
Development expertise
From the energy storage block to the rack concept and control unit, all the components of the battery system have been developed by Commeo. The Commeo battery system has been specially developed in
Germany in line with the highest European safety and quality standards.
Independence
Thanks to regional suppliers and complete freedom in deciding on the components used, we are fully independent of global political and economic developments.
Connection suitability
We provide our partners with an innovative developer interface so that external peripherals can be connected to our battery systems. In this way, we ensure that current and future converters, chargers,
controllers etc. – plus protocols and data formats – can be used with our battery systems.
Feel free to get in touch with us for personalised advice
Frank Vöge
Direct:
+49 5407 81381-11