Commeo HV System, bipolar
Developed as modular battery storage, the Commeo HV battery systems offer unique flexibility in the high-voltage range and, thanks to the compact design of the energy storage blocks, take up less space than systems with a comparable performance level.
With the new ccuHV-B bipolar control unit as an additional component for the Commeo HV system, Commeo is now the only lithium-ion battery system supplier that offers the option of simultaneously supplying a positive and a negative voltage to a zero-point reference potential (recognisable on a total of three battery connections with zero point tapping, in contrast to two battery connections – plus / minus – in unipolar systems). With this concept, a large part of the necessary transformation work for the provision of AC voltage from the internal DC voltage of the energy storage blocks is provided by means of intelligent system design via the control unit of the energy storage system. This drastically reduces the necessary degree of complexity on the part of the inverter/converter, which for the first time makes it possible to use a three-level converter to achieve an economic advantage of 20 to 30% when providing energy from a lithium-ion storage device compared to applications with a normal, unipolar battery converter.
Made in Germany: As a Li-ion battery manufacturer in Germany, Commeo offers turnkey energy storage solutions from a single source – from the development and production of individual storage blocks to the construction of entire energy storage systems. Feedback and requirements from our customers can thus flow directly into the design and further development of the products.
Our configurator for your very own high-efficiency energy storage solution!
Ideal application examples for the bipolar Commeo HV systems
Telecommunications
Centralised & decentralised emergency power supply
Peak shaving
Grid stabilisation of internal energy infrastructures

Buffering of high starting currents when starting machines
Reactive power compensation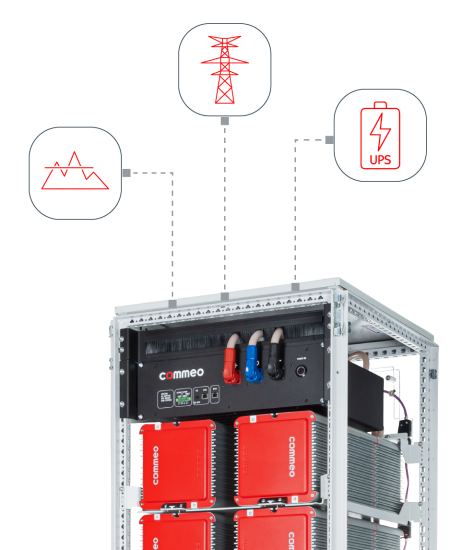 Features of the Commeo HV systems, bipolar
Bipolar output voltage
Simultaneous provision of positive and negative output voltage with zero point potential tap through a total of three battery connections
AuxiliaryPower
Supplies energy for external components even when the battery system is switched off
TrueModularity
True modularity up to +/- 400 V
Bipolar power switching
Integrated, bipolar power switching dramatically reduces the complexity when connecting to 3-point converters
DeepDischargeProtection
Protects the battery system from costly damage due to exhaustive discharge
BlackStart
Battery system powers the control unit independently of other power sources
System components of the bipolar HV battery system
Maximum flexibility and simple configuration
Divided into a small number of combinable system modules
Finely scalable solutions due to modular design at block and system level
Adding multiple systems to increase capacity
Simple, safe installation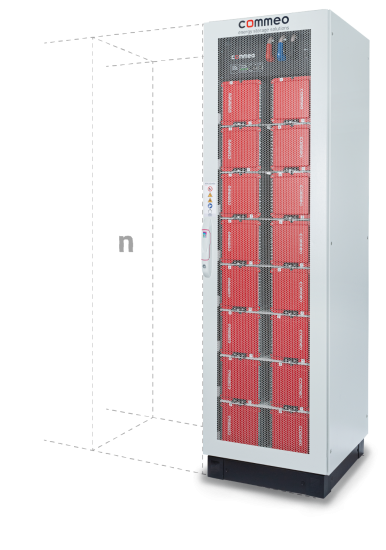 Commeo system components & cabinet expansion levels
Central component of the Commeo Product World
Lithium-ion battery module with integrated battery management system
Types of energy storage block:
Serial block
Parallel block
End block
Models:
ccuHV control unit, bipolar
Monitors a HV battery system consisting of several energy storage blocks and serves as a battery disconnect unit
Three touch-protected connection sockets in industry standard (+/o/-)
Web-based user interface
Integrated High Speed fuse & all-pole cut-off relay
CAN bus & Ethernet interface
24 V DC auxiliary voltage for supplying external devices
The Commeo user interface enables the system to be configured and operating data to be monitored; the user interface …
Enables the initial setup of the battery system
Allows remote monitoring or smart maintenance via laptop and mobile devices
Forms the basis for machine-to-machine communication ("M2M")
In addition, the user interface offers:
Open communication interface to external devices/peripherals
Freely configurable dashboard for monitoring the operating data (SoH, SoC, SoP, temperatures, charging/discharging currents)
Ability to export historical and current operational data of the energy storage system and individual blocks
Expansion stages of the battery system
Width: 600 / 800 / 1000 mm
Height: 2000 mm
Depth: 600 mm
Base 100 / 200 mm
Options for baying

Via roof plate
Via base
Via busbar trunking
Width: 1600 / 1800 / 2000 mm (+140 mm in each case for an air conditioner)
Height: 2200 mm
Depth: 600 mm
Air-conditioned / heated
Suitable for outside installation temperatures
From -40 °C to +80 °C
Size: 10 / 20 / 40 feet
Air-conditioned
Warning system
Fire protection
Suitable for outside installation temperatures
From -40 °C to +80 °C
Reference project: Windmöller & Hölscher
Uninterruptible power supply (UPS) for a fully automatic packaging machine at Windmöller & Hölscher
Tailor-made complete system supplies the packaging plant with energy from the battery in the event of voltage fluctuations and power failures
Smooth production process
Time-consuming cleaning of the machine prior to start-up after a power failure is no longer necessary
Longer machine life
Short payback period
High system availability
What added value does the Commeo battery storage offer?
The added value lies in the fact that you do not need any separate battery rooms due to the high level of security and the high performance of our energy storage systems with a small space requirement; our systems can often be set up directly where their energy is needed.
In addition, our energy storage professionals offer a full service. Together with you and your customers, they have developed a complete concept for the effective, future-proof design of the energy storage system.
Why are Commeo battery systems safe?
When handled correctly, Commeo battery systems are completely safe.
Commeo has implemented a multi-level, redundant security system in the energy storage blocks and systems. Due to
to a robust aluminium housing
a relay
safety fuses
an intelligent battery management system (BMS) that Commeo developed itself and which monitors temperature, voltage and other safety-relevant parameters and counteracts them if necessary
control unit
and other features relevant to safety, Commeo products are state-of-the-art.
What benefits can you expect from Commeo?
Development expertise
From the energy storage block to the complete energy storage system and control unit, all the components of battery storage have been developed by Commeo. The Commeo energy storage system has been specially developed in Germany in line with the highest European safety and quality standards.
Independence
Thanks to regional suppliers and complete freedom in deciding on the components used, we are fully independent of global political and economic developments.
Connection suitability
We provide our partners with an innovative developer interface so that external peripherals can be connected to our battery systems. In this way, we ensure that current and future converters, chargers, controllers etc. – plus protocols of data formats – can be used with innovative energy storage solutions.