Intelligent lithium-ion energy storage solutions for industrial and commercial use
Have you ever experienced one of these scenarios? Your power consumption only peaks for short periods, but your energy costs still hit new heights as a result of your utility company consistently reserving these peak load capacities for you? Unexpected power failures at your company are causing material damage or extended production downtime? You'd like to give your customers the option of charging their electric vehicles, but your grid connection isn't sufficient to do so? Our innovative energy storage concept from a single source allows us to present you with the opportunity to avoid worst-case scenarios like these.
One system infinite possibilities
In the near future, we can expect to see massive solar parks and photovoltaic arrays with capacities of 200 gigawatts. As a business owner, you too now have the opportunity to play a role in shaping Germany's "green" future by installing an energy storage solution from Commeo in your company. The energy storage system is able to store any excess energy that can't be used right away and deploy it exactly when you need it. What's more, the customised Commeo energy storage solutions can also help to keep your power supply stable and to effectively decrease your peak loads with tangible benefits for the company's bottom line. Commeo develops, produces and markets complete turnkey solutions "made in Germany" for both the industrial and commercial sectors.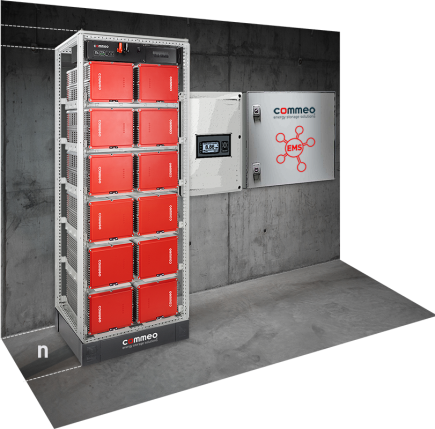 We are the right partner for a complete energy storage solution that's perfect for you!
Commeo ensures that you'll benefit from safe, reliable and intelligent energy supply solutions for industry and commerce. We will provide you with advice and work hand-in-hand with you to develop a customised energy storage solution that will allow you to profit from considerable cost savings over the product lifetime. Commeo provides you with turnkey systems "made in Germany" with delivery times that remain short due to our special supplier strategy!

Full-service system partner
Our experts on energy storage solutions will work with you to develop an exhaustive concept for dimensioning your battery system to ensure it is effective and sustainable.
What we do for the environment
The recycling of all components according to their specific type makes a high degree of recycling possible, and also ensures a straightforward recycling process.
Safety
Our extremely safe lithium-ion battery storage systems have been tested in accordance with the very strictest DIN and TÜV standards.
Click here to find an overview of our current projects, and ones we have recently completed. We would like to thank our customers for agreeing to allow us to present the projects that we worked on together as reference projects on this website.
6. March 2023
Our battery systems (870 kWh) were installed in the Frequenz project for EDEKA Fruchtreiferei GmbH in Borna. The installed solution covered various application areas for the customer.
6. March 2023
By installing the UPS solution, the automotive manufacturer not only minimizes the economic damage in the event of a fire, but also increases safety for the life and limb of its employees.
6. March 2023
The roof of the new Ostmann building in Oldenburg is adorned with a photovoltaic system that supplies the garden center almost entirely with energy. ...
The world of Commeo products!
Whether it's a block or a rack, or even a container  Commeo's energy storage solutions will give you a previously inconceivable level of flexibility when it comes to lithium-ion energy storage. The individual energy storage solution that you receive from us is a turnkey product.
Commeo battery storage systems
Our solutions are designed so that each block can be easily integrated in standard industrial or IT racks. Even large-scale storage solutions pose no problems at all, as multiple racks can be connected together to form a high-performance energy storage solution.
Commeo energy management system
Commeo's battery storage system gives you a highly functional, flexible and extremely safe energy supply solution for all sorts of different areas of use and the integrated control and monitoring software allows the storage modules and the systems as a whole to be configured to suit requirements.
Our configurator for your very own high-efficiency energy storage solution!
Click here to find a list of upcoming trade fairs at which you can visit us. Join us there and secure yourself a ticket for the trade fair!You're more than welcome at our booth.
11. May 2022
The trade fair E-world energy & water is the meeting point for the European energy industry.
11. May 2022
EES (The SmarterE) is an international trade fair for energy industries.
Become a Commeo certified partner!
In the training course, you will learn more about our Commeo battery storage: from battery safety to commissioning the product. Our training course is run by our energy storage experts. The contents provide the basic knowledge necessary in order to install Commeo battery storage blocks reliably and efficiently.
Sign up now for our exclusive Commeo newsletter. Every month, you'll receive invaluable information about the energy storage industry and will receive all the latest news on projects that have been completed, and upcoming events.